Skip Global navigation and goto content
Performance Excellence
Florida Department of Health in Broward County
DOH-Broward believes that the overall approach to maintaining an organizational focus on performance improvement, including organizational learning, is through strategic planning, systematic evaluation, and improvement methods. The strategic planning process outlines the ongoing evaluation of organizational objectives and opportunities to develop action plans to close gaps. One of the key success factors for an effective strategy deployment is constant review of its progress and make decision for any deviations to plan. To do so, the performance management system, Active Strategy, is used to deploy and track organizational goals and business results on a monthly, quarterly, and annual basis.
DOH-Broward utilizes several systematic approaches to ensure the continuous evaluation and improvement of our services, systems, and processes. These include internal leadership review, process management, employee involvement, problem-solving teams/workgroups (Six Sigma), and the systematic assessment of our management system through regular assessments utilizing the Malcolm Baldrige Criteria for Performance Excellence.
DOH-Broward's approach to systematic knowledge and skill-sharing throughout the organization is accomplished through our collaborative involvement structure and sharing at all levels, at an annual employee conference/programmatic retreat, regular team reviews, monthly leadership meetings, and wide availability of data and information (SharePoint, CHARTS, FLAIR, FIRS, etc.) that is analyzed to improve overall organizational performance.
DOH-Broward is committed to the ongoing improvement of the quality of public health care its customers receive, as evidenced by the outcomes of that care. The organization continuously strives to ensure that:
The treatment provided incorporates evidence based, effective practices;

Treatment and services are appropriate to each customer's needs, and available when needed;

Risk to customers, providers and others is minimized, and errors in the delivery of services are prevented;

Customer's individual needs and expectations are respected; customers's or those whom they designated have the opportunity to participate in decisions regarding their treatment; and services are provided with sensitivity and caring;

Procedures, treatments and services are provided in a timely and efficient manner, with appropriate coordination and continuity across all phases of care and all providers of care.
Quality Improvement
In March, 2016, the Florida Department of Health received the first-in-the-nation national accreditation as an integrated department of health through the Public Health Accreditation Board (PHAB). Accreditation signifies that the state health office and all 67 CHDs have been rigorously examined and meet or exceed national standards for public health performance management and continuous quality improvement.
DOH-Broward utilizes an agency-wide approach to performance excellence. Quality Improvement (QI) serves as a key component of the DOH-Broward performance management system that describes the integration of quality improvement processes into (1) leadership structure, (2) staff training, (3) planning and review processes, (4) administrative and programmatic services, (5) sharing of practices, and (6) evaluation of measurable results of departmental priorities and public health objectives. DOH-Broward has been recognized nationally for its public health initiaitves.
The National Association of County and City Health Officials (NACCHO) recognizes public health best practices through its Model Practices Program. The program honors and recognizes outstanding local health initiatives from across the nation, and shares and promotes these practices among local health departments through the Model Practice Database. As of 2019, DOH-Broward has been recognized for 16 Model Practices and 33 Promising Practices and 2015 Large Health Department of the Year.(https:// www.naccho.org/membership/awards/model-practices).
The National Network of Public health Institutes recognized DOH-Broward in 2018 for its Public Health Innovation Award which is "presented to an organization or individual who has taken a risk and developed an innovative solution or created a unique partnership resulting in new approaches, scalable ideas and new ways of working together" (nnphi.org).
DOH-Broward utilizes the Baldrige Criteria to advance improvement throughout the organization. These methodologies support quality and excellence and is based on a framework or organizational excellence. In 2018, the Florida Sterling Council awarded the Florida Department of Health in Broward County the prestigious Governor's Sterling Award for 2018, which is the state version of the national Malcolm Baldrige National Quality Award.
Performance Management System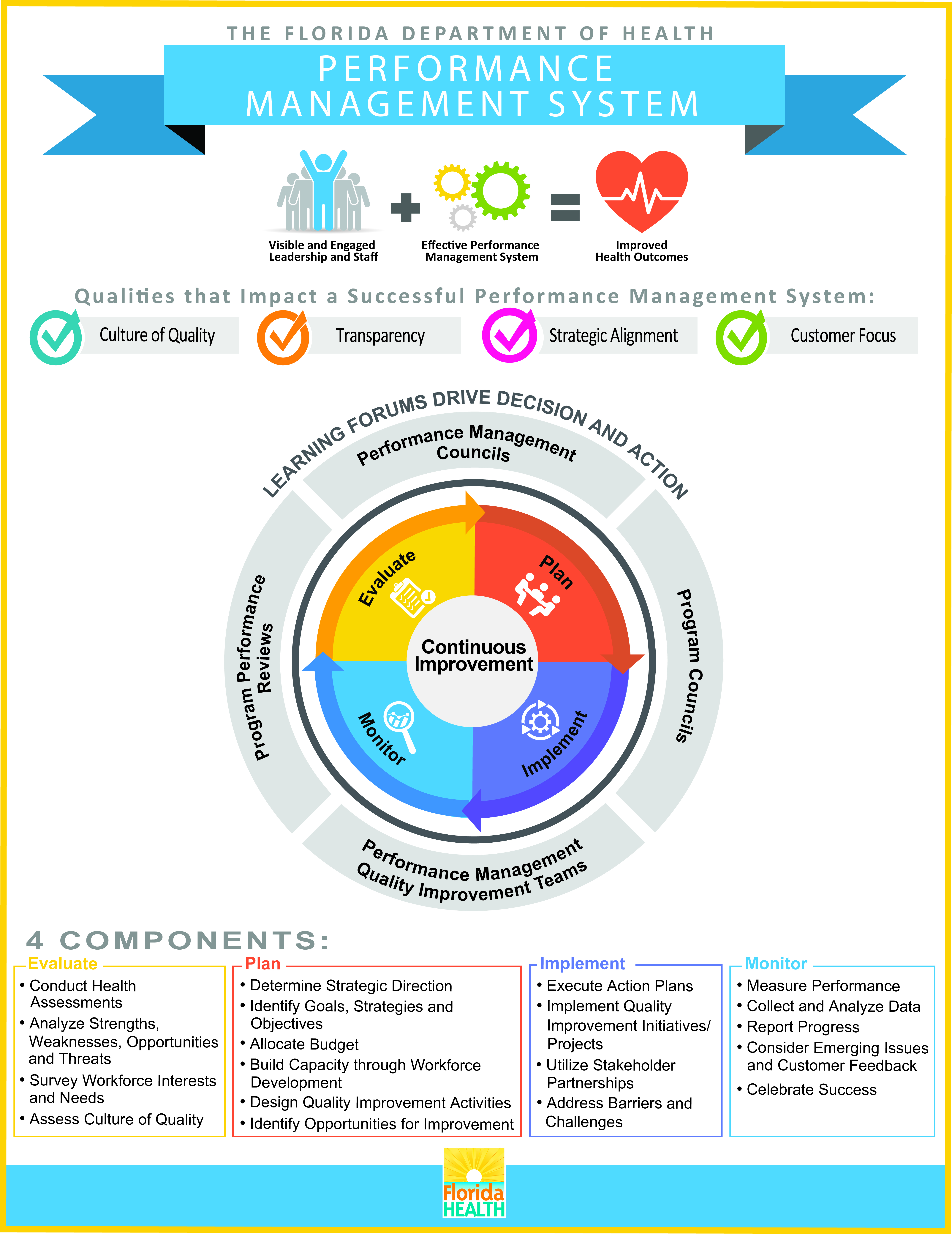 Additional Resources
American Society for Quality (ASQ)