skip to content
Dental Services
Florida Department of Health in Broward County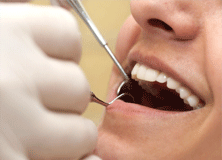 Florida Department of Health in Broward County Dental Office wants to be your "Provider of Choice" for dental services.

Who can receive dental services?
Dental services are available to the following populations:
Children ages 2 - 20 years.
Adults eligible under the Ryan White Part A program. People living with HIV/AIDS can call for Ryan White Part A eligibility determination at 954-566-1417.
Adults referred by the Memorial Healthcare System primary care medical program.
Is there a cost for services?

For children who are not covered by Medicaid or other insurance, and who are not part of the Head Start Program, dental fees are determined on a sliding fee scale based on family income.
There is no charge for adults :
Who participate in the Ryan White Part A program
Are referred by Memorial Healthcare System primary care
How do I make an appointment for Dental Services?

To schedule an appointment, please call 954-467-4705.
When and where can I get Dental Services?
Childrens Dental
Adult Dental
Additional Information: